Drive for continuous improvement and sustainable solutions through innovation
Elval's success and long-term development lies in the power of innovation. Technological innovation is at the core of all our activities, allowing us to overcome challenges and prepare for the future. We have a dedicated in-house Research, Development and Technology Department that allows us to develop unique solutions and value-added aluminum products for our customers. We believe that innovation is not only critical to our current success as a business, but also ensures the long-term sustainability of our products and operations.
Our Technology Center
Elval's onsite Technology Center (housed in our facilities at Oinofyta) is the cornerstone of our innovative solutions. This team of multidisciplinary specialists provides customers with fast track access to R&D in product design, process innovation and technical support.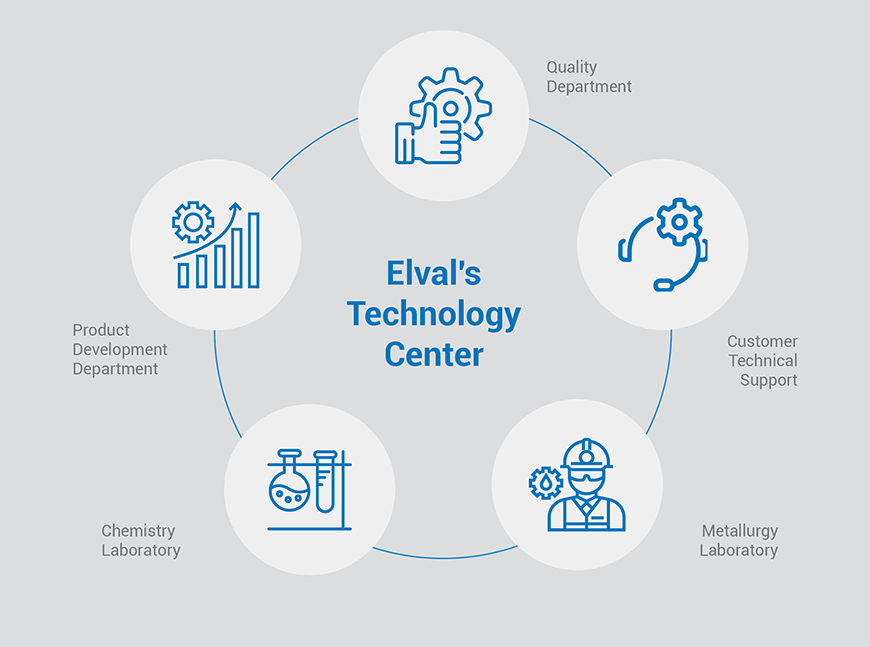 Our customers benefit from the know-how of our specialists in quality control, technical support, product development, as well as metallurgy and chemistry laboratories, who work collaboratively to develop and optimise new and current products to ensure 100% customer satisfaction.
Commitment to quality
Providing high quality products and reliable solutions ensures a competitive advantage and is also a matter of corporate responsibility. We apply a certified Quality Management System in accordance with the requirements of the international ISO 9001:2015 standard. Elval is certified with the IATF 16949 technical specification for the automotive industry. The main objectives of the IATF 16949 technical specification are to support further development of quality management systems, to avoiding errors and reduce deviations and waste across the supply chain. Quality assurance means:
Applying international standards
Conducting strict audits at all stages of production
Continuously improving production processes and product audits
Investing in new infrastructure and state-of-the-art equipment.
We collaborate to drive innovation
Elval places great importance on developing its people and building long-term partnerships with other companies in the sector, such as the United Aluminum Company of Japan (UACJ Corp.). In addition to its collaborations with other businesses, Elval understands the importance and benefits of R&D and pursues partnerships with academic, scientific and other bodies. These include consultants and research centers in Greece and overseas, such as UMIST and Elkeme, Hellenic Research Centre for Metals an ElvalHalcor subsidiary. Such collaborations provide Elval with access to the latest developments in the aluminium processing sector, as well as the relevant know-how.
For more information about Elval's innovation, visit: https://www.elval.com/en/technology