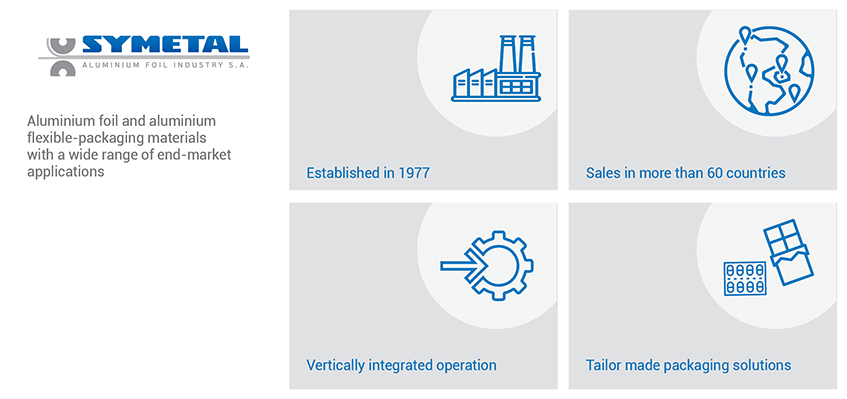 With more than 40 years' experience in aluminium foil rolling and processing, Symetal offers tailor-made and sustainable foil solutions. Symetal is highly export-oriented with 90% of its sales carried out in over 70 countries across the globe.
Symetal has two production facilities in Greece:
dedicated to the production of plain aluminium foil in a wide range of thicknesses and alloys
Converting plant
focused on the conversion of aluminium foil into various packaging applications
Symetal produces aluminium foil and aluminium-based packaging materials for the following applications:
Flexible packaging for food, pharma and tobacco
Semi-rigid food containers
Cable wraps
Tea lights
Heat exchange equipment
Technical applications
Household use
Hair care
Li-ion batteries.
Symetal is certified with the international standards ISO 9001:2015, 14001:2015, ISO 15378:2017, OHSAS 18001:2017, ISO 50001:2011. Moreover, the Mandra-based aluminium foil processing plant is also certified as per ISO 15378:2017 and ISO 22000:2005 international standards. Symetal is also registered under the European Commission ecomanagement and audit scheme (EMAS) for environmental management. In 2019, Symetal joined the Aluminium Stewardship Initiative (ASI) and is arranging the relevant certification of its processes. Symetal has launched the certification process as per ISO/TS 16949:2016 (technical specification for the quality management system) for the automotive industry.
Sustainability Certification by the global platforms
Symetal's actions around Sustainability issues are listed in three major international organizations:
EcoVadis: EcoVadis granted Symetal with a gold recognition level for its 2019 CSR performance. Symetal was ranked among the top 3% suppliers evaluated by EcoVadis.
Sedex: Symetal first joined Sedex in 2014.
CDP: Symetal has been reporting to the CDP's supply chain program since 2014 by filling out and submitting the corresponding questionnaires to the CDP platform. The CDP platform encourages exchanges of best practices between companies and their suppliers, as far as climate change is concerned.
For more information, please visit: http://www.symetal.gr