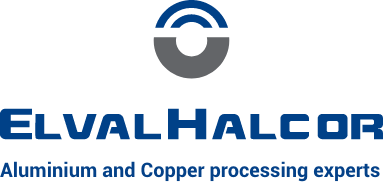 2022
Initiation of operation of the new six-high cold rolling mill at the Elval factory in Oinofyta.
2021
ElvalHalcor is the first Greek manufacturer to certify its casthouse, rolling, coil coating and finishing operations to the Aluminium Stewardship Initiative (ASI) Chain of Custody.
2020
In June 2020, the new four-stand TANDEM hot finishing mill has successfully initiated operations.
Elval's certification with the ASI Performnace Standard (July 2020).
2019
Major investments totalling EUR 163.8 million were carried out, allocated to the aluminium segment and the copper segment by EUR 143.7 million and EUR 20.1 million, respectively.
New loan agreements amounting to approximately EUR 73 million were signed in order to finance the company's investment plan, refinance existing loans and meet working capital needs.
Cablel Wires was fully acquired (100%) by Hellenic Cables.
2018
In February 2018, the shares of ElvalHalcor commenced trading on the Athens Stock Exchange.
In April 2018, ElvalHalcor's copper tubes division acquired the assets of Ipirus Metalworks Industry S.A. with the aim to re-activate the plant's production capabilities and through facilitating the international commercial network of ElvalHalcor, to transform the unit into an exporting one.
In May 2018, after securing regulatory approval, ElvalHalcor's copper tubes division acquired 50% of the Netherlands-based NedZink B.V., entering into a joint venture with Koramic with the purpose of further developing production of titanium zinc.
2017
In December 2017, the merger by absorption of non-listed Elval by Athens Stock Exchange listed Halcor is concluded, while the latter is renamed to ElvalHalcor Hellenic Copper and Aluminium Industry S.A. (ElvalHalcor).
2016
Spin-off of the aluminium foil sector (now under Symetal S.A.) marks completion of the internal restructuring initiated in 2015.
Elval wins top innovation prize for its product Elval Grain at the 3rd Applied Research and Innovation Competition 'Greece Innovates!'
2016
Halcor gains leading position among European copper tubes manufacturers.
Turnaround in Group profitability.
Following the cross-border merger by absorption by Cenergy Holdings of the Greek formerly listed companies Corinth Pipeworks Holdings S.A. and Hellenic Cables S.A. Holdings Société Anonyme, Halcor becomes Cenergy Holdings' shareholder by 25% .
Halcor participates in the share capital increase of International Trade S.A.
Cooperation agreement decided between Sofia Med and Dowa Metaltech for know-how and technology transfer.
2015
Spin-off of the aluminium rolling sector of Elval, absorbed by Symetal, later renamed Elval Hellenic aluminium industry S.A.
2015
Halcor acquires the commercial activities and distribution network of Reynolds European's copper segment in France and Reynolds Cuivre SA is set up.
Halcor cooperates with Turkish company Cantas A.S. to found HC Isitma.
2013
Furukawa-Sky Aluminium, Japan's biggest rolled aluminium products producer, merges with Sumitomo Light Metal industries to form UACJ Corporation, with which Elval's strategic co-operation continues.
The construction works of the new facility designed for increasing the production capacity of long aluminium slabs in the Elval plant are completed.
The new melting furnace for aluminium scrap recycling begins operations.
A new investment plan was launched in order to enhance the production capacity of Bridgnorth Aluminium's plant.
2012
The automotive industry standardisation procedure according to ISO TS 16949:2009 is successfully completed.
2012
Fulgor operations are fully integrated with those of the Group and the relevant restructuring of the product portfolio is launched.
The implementation of an investment plan begins in the Company's plant in Soussaki (Corinth).
Talos® Plated and Talos® Geotherm copper tubes are launched in the market.
A new investment plan is launched by Sofia Med to strengthen its production of value-added products.
The major investment in Fulgor is complete and the Group is ranked among the few manufacturers of high voltage submarine cables worldwide.
2011
Certification of Elval's Occupational health and safety management system, according to the standard OHSAS 18801:2007.
The new 2.5m wide tension levelling machine starts operations.
2011
Fulgor is integrated into the Hellenic Cables Group, thus strengthening its position in terms of know-how and production capacity in the submarine and high voltage cables sector.
2010
Annual production capacity of the Oinofyta plant rises to 240,000 tons following the completion of an extensive investment plan. The group embarks on distribution of Elval Grain aluminium sheets for use in flooring for cooling compartments of refrigerator trucks.
2010
The Group completes its 10-year extensive investment plan to increase the competitiveness of its production base.
Fitco incorporates the brass bars and tubes manufacturing branch of Halcor into its production process.
2009
Elval's strategic cooperation with Furukawa-Sky Aluminium is further strenghtened through the latter's acquisition of 25% of Bridgnorth Aluminium's share capital.
2008
Hellenic Cables (Halcor subsidiary) launches new production process in 400 kV High and Extra high voltage cables.
2007
Establishment of Afsel in cooperation with Japanese company Furukawa-Sky Aluminium. Afsel focuses on the promotion of products to the automotive industry for heat exchangers.
2005
The Halcor plant in Tavros starts manufacturing titan-zinc rolled products.
The new pioneering Cusmart® tubes are launched in the market.
2004
Installation of important machinery by subsidiary Bridgnorth Aluminium in order to increase its manufacturing capacity.
2003
Operation of a new melting – cast house unit for production of 9m long slabs in the Elval plant, Oinofyta.
2001
Acquisition of the Lawson Mardon Star (Litho unit) by the subsidiary Bridgnorth Aluminium in the United Kingdom.
Installation of a new cold mill for coils with a width of up to 2.5m in the Elval plant, Oinofyta.
Construction of new storage facilities for Εtem at Magoula.
2000
Halcor acquires majority holding in Hellenic Cables.
Sofia Med acquires the fixed assets of Kozm. Manufacturing of rolled copper and brass products is transferred to the Sofia Med plant. An extensive investment plan to restructure and upgrade the Group's industrial premises begins.
1999
Installation of a new lacquering line and operation of a new foil cold mill for coils with a width of up to 2m in the Elval plant, Oinofyta.
1999
Icme Ecab is integrated into the Hellenic Cables Group. It is based in Romania and mainly operates in the production of cables as well as plastic and rubber compounds.
1998
Installation of a continuous casting unit in the Elval plant, Oinofyta.
1997
Vector merges with Halcor and is renamed to Halcor S.A.
Halcor acquires a 4.99% holding in Hellenic Cables S.A., also listed on the Athens Stock Exchange.
1996
Listing of Elval on the Athens Stock Exchange.
1996
The shares of Vector are listed on the Athens Stock Exchange.
1994
Listing of Εtem on the Athens Stock Exchange.
Incorporation of Steelmet in Sofia, Bulgaria.
1993
Installation of a new single stand, 2.5m width, hot mill in the Elval plant, Oinofyta.
1990
Halcor gives Vector its rolling equipment and the latter begins operations in the copper and other alloy rolling, extrusion and cutting sectors.
1985
Installation of the metal foundry of Εtem at Saint Thomas
1981
The rolling and extrusion branches of Viem are integrated into Halcor, along with Viohalco's experience in the area.
1976
Halcor is incorporated and production of billets and slabs begins at the Oinofyta plant.
1974
Commenced operations of the rolling plant in the Elval plant, Oinofyta.
1973
Incorporation of Elval and absorption of the aluminium segment of Viohalco.
1971
Incorporation of Εtem, with facilities in the industrial area of Magoula (Attica).
1937
Hellenic Copper Industry begins operations and launches production in Viohalco's newly-established industrial plants in Tavros (Attica).